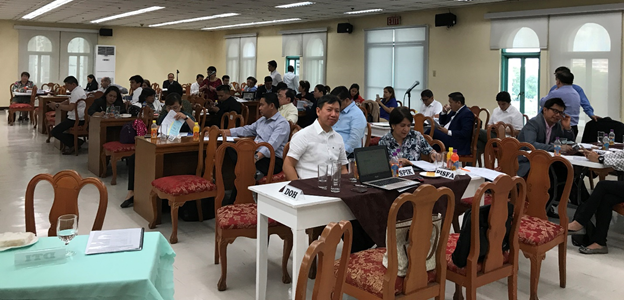 The National Security Council – Strategic Trade Management Committee (NSC – STM Com) conducted the public consultation for the Strategic Trade Management Act Implementing Rules and Regulations (STMA IRR) on June 20, 2017 at the Social Hall, 4th floor, Mabini Hall, Malacañang Palace Complex, Manila.
The Republic Act No. 10697 otherwise known as the "Strategic Trade Management Act (STMA)" was signed into law on November 13, 2015. The said law enforces measures to establish domestic controls to prevent the proliferation of weapons of mass destruction (WMD) and their means of delivery from or within the Philippines. Its main objective is to maintain international peace and security, and promote economic growth by facilitating trade and investment through the responsible management of strategic goods and the provision of related services. This law is likewise foreseen to open opportunities for multinational companies that produce strategic goods to invest and set-up manufacturing operations in the country.
BGen. Michael BJ Manquiquis of the Anti-Terrorism- Program Management Center (ATC-PMC) and National Security Council- Strategic Trade Management Committee (NSC- STM Com) Secretariat welcomed the participants from thirty four (34) industry associations who participated in the public consultation.
In his welcoming remarks, he emphasized the importance of a well-established regulation on border control to ensure the protection, safety and security of the public. Following his welcoming remarks was a video presentation on the global incidences on how chemicals were used as Weapon for Mass Destruction (WMD).
Mr. Armando Mercado Jr. of the DTI-STMO presented the different sections of the STMA IRR. Stakeholders were able to raise their comments, issues and concerns on the draft STMA IRR through the question and answer facilitated by Atty. Janice Sacedon- Dimayacyac also from the DTI- STMO, some of which are the possible overlapping of regulation with existing regulations of other government agencies, the possible delay in the processing and issuance of related permits or licenses which can also be related to availability of manpower and the final list of dual goods list.
The DTI-STMO encouraged the stakeholders to submit position paper for the improvement of the IRR.